The new management of the Ghana's Electricity Corporation, Power Distribution Services (PDS), will take over the state organization from Friday March 1,2019.
PDS hence becomes directors and administrators of the organization.
The takeover was to have taken place on February 1 but was rescheduled.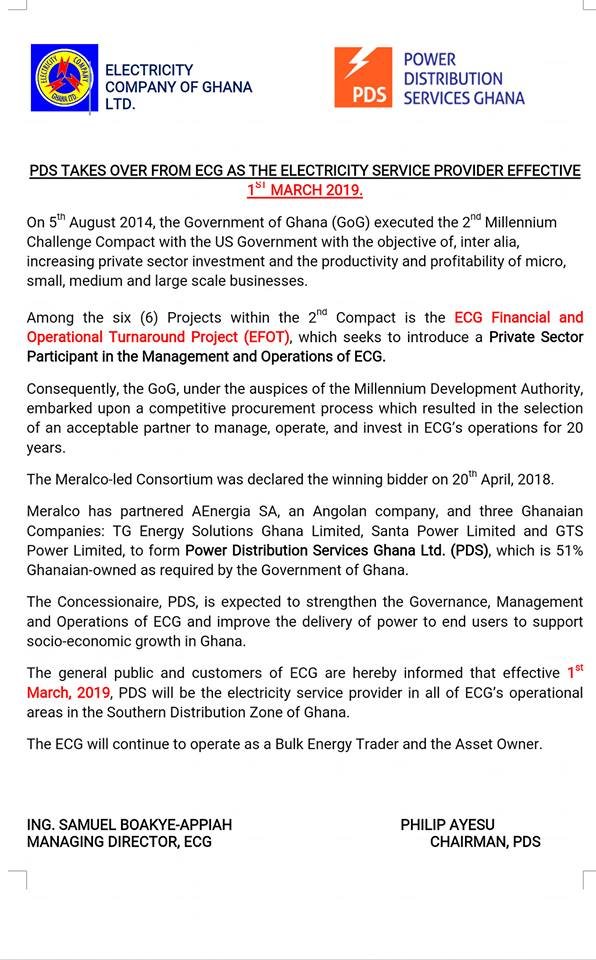 Background
On August 5, 2014, the Republic of Ghana and United States of America – acting through the Millennium Challenge Corporation (MCC) – entered into a Millennium Challenge Compact.
The Compact provides for a grant of up to US$498,200,000 to advance economic growth and reduce poverty in Ghana; and commit Ghana and the MCC to a five-year economic development programme that will fund investments in the country's power sector.
The programme consists of six projects: namely the ECG Financial and Operational Turnaround Project; NEDCO Financial and Operational Turnaround Project; Regulatory Strengthening and Capacity Building Project; Access Project; Power Generation Sector Improvement Project; and Energy Efficiency and Demand Side Management Project.