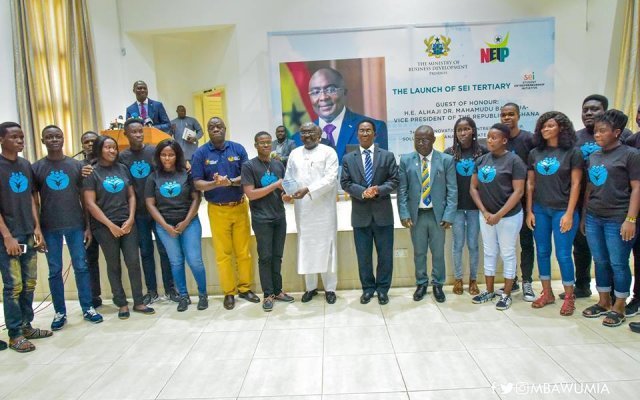 Vice-President of Ghana, Dr. Mahamudu Bawumia has launched another Student Entrepreneurship Initiative (SEI), this time targeted at tertiary institutions.
SEI is a government policy developed by the Ministry of Business Development in conjunction with the National Entrepreneurship and Innovation Plan (NEIP) aimed at boosting the entrepreneurship ecosystem and deepen the entrepreneurial capacity of students.
The launch, which happened on 23rd April, 2019 at the University of Ghana, Legon saw dignitaries in attendance including the Vice-President, Dr Mahamudu Bawumia, Minister of Business Development, Ibrahim Mohammed Awal, Minister of Education in Charge of Tertiary, Prof Kwesi Yankah and Vice Chancellor of the university of Ghana, Prof. Ebenezer Oduro Owusu.
Speaking under the theme, "Innovation and Entrepreneurship, Solution to Ghana's Graduate Unemployment", Dr. Bawumia admonished students to take center stage in moving Ghana's economy from a raw material export dependent one to that of value addition.
"Industry growth has been slow and often limited to old technology manufacturing without much value addition to the raw materials. The result is that we have an economy that is dependent on raw materials. We need to work on value addition of our products to open doors for job opportunities" he said
He added that this could be achieved through innovation and entrepreneurship, which could address the growing unemployment crisis in Africa.
Minister of Business Development, Dr.Ibrahim Mohammed Awal added that the ministry would extend coverage of the SEI -Secondary from 4,000 schools to 20,000 schools by the close of this year. Furthermore, the SEI-Tertiary, which is targeting 20 institutions this year, would be extended to 40 tertiary institutions by the end of next year.
Talking to the students at the launch, Minister of Education in Charge of Tertiary, Prof Kwesi Yankah said that the high graduate unemployment in the country had challenged an age-long notion of higher education equaling better job opportunities. He added that the ministry had however initiated steps to better equip tertiary students with the right skill sets and curriculum to create employment for themselves.
These included revitalization of technical and vocational training, narrowing the agenda of technical universities to stick to core mandate and also developing action plan for tertiary institutions to engage industries.