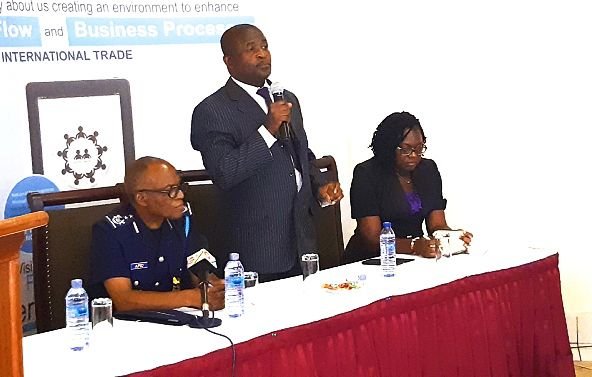 The Ghana Revenue Authority (GRA) and information technology partner Westblue Consulting Ghana Limited have revealed that more than 10,000 importers are registered under the 'Ghana Trade Hub Mobile App'.
The Ghana Trade Hub (GTH) Mobile App is an online trade information exchange and clearance process introduced by the government and developed by Westblue to make trading at the country's ports easier.
The mobile app, introduced in 2018 is meant to track imports into Ghana and also make it possible for the importer to know the estimated payable duty.
Mr. Hector Obideabah, a Revenue Assistant Class One, at the Customs Technical Services Bureau at the Customs Division of GRA, speaking at a stakeholders' engagement in Accra, on the new Ghana trade hub portal, said the free mobile software had since 2018, recorded more than 500,000 hits, with a lot of traffic on the app.
He mentioned that there have been enhancements to the application to make it user friendly and it now has a classic and modern view.
"It makes it very easy and simple for importers to track the status, movement and location of their expected consignment, be they general goods or vehicles; and also to have foreknowledge as to the amount of duties that will be charged on such imports before clearance," Mr Obideabah explained.
He explained that stakeholders within the trade and imports sector could now check such information in the comfort of their homes or from anywhere in the world, without having to be physically present at the port.
Mr Obideabah disclosed that since its introduction, the GTH app had been largely embraced by importers, describing it as a novelty and brilliant innovation in the trade and imports fraternity.
He said the GTH served as a credible one-stop-shop for all trade information exchange and clearance processes.
"In an attempt to transform Ghana's ports to Smart Ports and strengthen Ghana's economic competitiveness, there is automation of the Certification of Origin for export; cancellation of the importer registration process; and regulatory agencies for physical examination reduced from 16 to three", Mr Obideabah said.
He said the integrated risk management system had reduced physical inspections of goods at the ports by 50 per cent.
The Assistant Commissioner in charge of Communication and Public Affairs, Mr Kwasi Bobie-Ansah, appealed to the media to help the institution explain how effective the new GTH App was relevant to importers and the public.
He reiterated the need for the public to register with the GRA and obtain their Tax Identification Number (TIN) since it was a pre-requisite in accessing the new GTH App.
Mr Bobie-Ansah said GRA was ready and willing to explain and offer further information concerning the new app and its related operations.